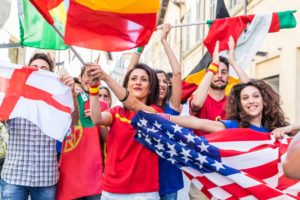 The week went by very quickly and as promised we are  glad  to announce that after hours of intense debates and voting, Bookwormlab.com's team is ready to make 3 of our clients really happy.
But first, we want to thank you all for participating. We really enjoyed reading your Valentine's cards and it warms our heart you took time and effort to do the drawings. We hope you made the most of your 14% discount during the past week.
And now to the lucky winners. Below are the drawings that impressed us the most. They may not be of Picasso or Van Gogh, but they definitely made us smile. Here they are:
1.

2.

3.

Without doubt  you have recognized your valentine and that means only one thing –  you get a 14% lifetime discount. You will receive an email notification as well, so that you are absolutely sure of your win. The discount will appear in your account in the nearest 24 hours and you will be able to use it whenever you feel like!
We congratulate our winners and for those, who didn't get a lifetime discount, we want to remind that there are a lot of holidays during the year and Bookwormlab.com always finds a way to offer something special for our clients. So stay in touch and follow our updates, as we may surprise you agreeably!
Sincerely yours,
Bookwormlab.com's Team