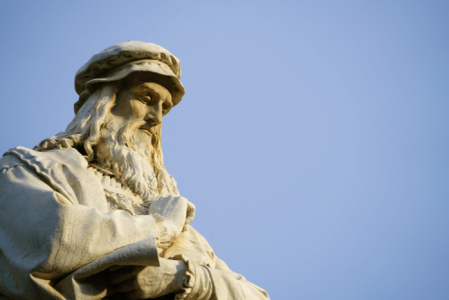 Mirror handwriting
Leonardo had a mirrored handwriting: he held the pen in his left hand, and the lines began on the right. Most often in notebooks he first filled out the right page, then the left. From the point of view of graphologists, this feature of writing speaks of a strong desire for power.
"Normal" handwriting was not so easy for Leonardo. He used the "generally accepted" method if clarity was important: for example, in the notation on topographic maps, or in the record of the death of his father. Leonardo also carefully wrote out his official and personal letters. He drew with both hands.
Passion for flying
The myth of Icarus fascinated Leonardo. There are notes on flight technology in at least nine collections of his manuscripts. He was interested in lifting objects and persons into the air. He intended to soar over the Lombard lakes, and in order to reduce the risk of a fall, he developed a parachute, the proportions of which are not so far from the modern ones.
The flight seemed to be the highest dream of the inventor, the fantasy of the God-engineer, creating an unearthly miracle. This idea also expresses his desire to enjoy complete freedom, to overcome the boundaries of human existence.
Against the tyranny of fashion
Leonardo was handsome, slender, with correct body proportions. According to the fashion of the time, everyone wore long clothes and would walk in a short pink tunic up to the knees. Leonardo had beautiful, carefully combed curly hair reaching down to the middle of his chest.
Nevertheless, the artist spared no sarcasm about the excesses and vagaries of fashion, constantly changing and mocking at those who wanted to look beautiful.
Classes in ceramics
Grandmother Lucia di ser Piero di Zoso was like a mother for Leonardo, perhaps it was she who introduced the child to artistic creativity. Lucia came from a family of notaries but was also related to ceramics. The family property included kilns for making clay products. They were located not far from Vinci, in the town of Toye-Bakkereto, one of the main centers for the production of artistic ceramics of the XIV-XV centuries. There is ample evidence that Leonardo practiced the pottery craft.
In some of Leonardo's drawings, the figure is shown from the front, from the side, and from the back. Looking at an object from different angles when working with sculpture and drawing is explained in the "Treatise on Painting". Leonardo draws an analogy with the creation of ceramics: continuously rotating on a potter's wheel, his works demonstrate all sides.
Interesting History – Leonardo da Vinci's Personality Report